PDF
Stainless Steel Pressure Vessels
Application
Small, clean, stainless steel, full vacuum to high pressure; custom made tanks and pressure vessels with low leak integrity, high quality valves and fittings for tritium, nuclear, pharmaceutical, medical, experimental and oil and gas industry use.
Features
Low pressure (full vacuum)

High Pressure (to 1000 psig)

Helium leak tightness (2 x 10E-9)

Can be Electropolished

TSSA certification to ASME Sect VIII Div 1

High quality valves and fittings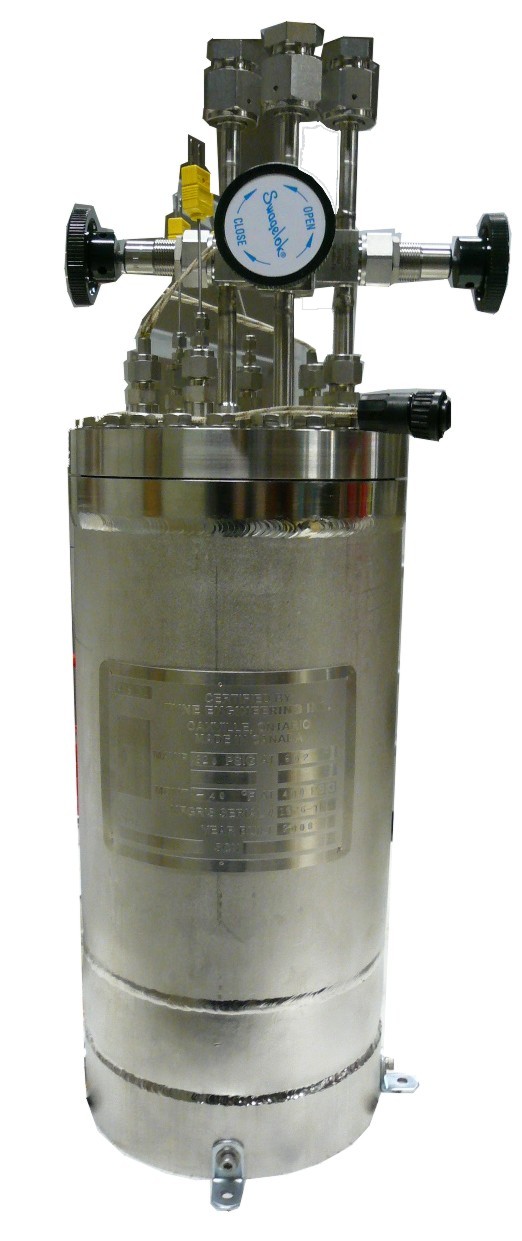 Description
Tyne builds small laboratory-sized stainless steel pressure vessels, either 316 or 304 materials. The exclusive use of stainless materials protects tooling and other equipment from carbon steel contamination.
Tyne will design simple or complex pressure vessels to asme codes which include internal cooling coils and baffles, internal heaters, thermocouples, flanged or full welded. Included are evaporators, condensers, recombiners, driers, strainers, moisture traps, storage vessels, metering vessels, getter beds, molecular sieves, etc.
The design will be carried out by Tyne, approved by TSSA, and all code required NDT will be carried out. Radiographs will be supplied to the client if required. Tyne has welders and welding procedures qualified in all necessary welding techniques.
All of Tyne's pressure vessels are helium leak tested, normally up to levels of 2 x 10-9 cc/sec, preceded by pressure testing, which, depending on the vessels and the test conditions, may be hydrostatically or pneumatically tested.
All vessels will be supplied with the pressure vessel nameplate attached unless otherwise instructed by the purchaser.
Vessels will normally be fitted with high quality leak tight connections such as VCRs, and leak tight valves such as bellows sealed valves or high integrity diaphragm valves.
Specifications
| | |
| --- | --- |
| Material | Stainless steel (304, or 316) |
| Sizes | Sizes to 50 liters |
| Codes and Standards | ASME Section III, or sec VIII Div 1, Nuclear Quality Control |