PDF
Electrolyzer
Model: 7031-ELEC-001
Application
Electrolysis is an essential part of the cycle of being able to remove tritium or separate hydrogen isotopes in light or heavy water, or from organic materials.
Features
Tritium-compatible electrolyzer is leak tight (10-8cc/sec helium or better).

Safe (low pressure of less than 150 psig)

Low inventory

No Pump or compressor required.

Hydrogen produced on demand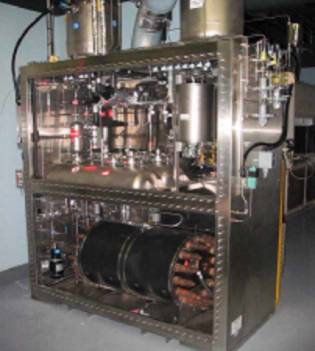 Description
Electrolysers are now being used as part of the cycle for tritium removal; electrolyzing water to obtain the gaseous hydrogen isotopes which can then be separated in an isotopic separation system. Conventional electrolyzers used for the production of hydrogen perform the process well, but need considerable modification to make then suitable for use with tritium. For example the piping system leak tightness is inadequate for a tritium electrolyser. The use of certain elastomers make it unsuitable. Vessels have to be redesigned to meet the tighter requirements of tritium, valves and fittings have to be replaced. Tyne has provided the tritium expertise required to modify the electrolyser on three occasions. This has resulted in the electrolyzer manufacturer performing conceptual design, supplying the cell, and the controls system, and Tyne carrying out the detailed design, manufacturing all of the vessels and supplying the valves and fittings.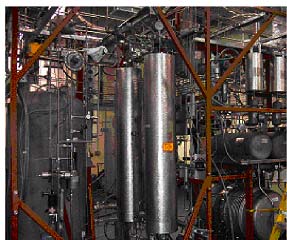 Unit designed for KHNP in Korea
The main concern of electrolysis of tritiated water is the longevity of the cell after being subjected to radiation.
The electrolysis cells worked on by Tyne have been able to produce about 10 m3 per day of hydrogen, though larger units are possible.