PDF
Tritium in Breath Monitor
Model: 7008
Application
The tritium breathalyzer is intended to simplify measuring the bodily intake of high levels of tritium in persons who have been working in areas where the release of tritium is possible. It does so by measuring the level of tritium in the breath. This system is a great addition to the current method of urine analysis because the results are discovered immediately, allowing a fast response to the problem.
Features
Easy and convenient to use

No specialty gasses required

Quick operation (between 15 seconds and 1 minute)

Reports tritium-in-breath results by e-mail to operator and Health Physics simultaneously

Auto corrects for all background influences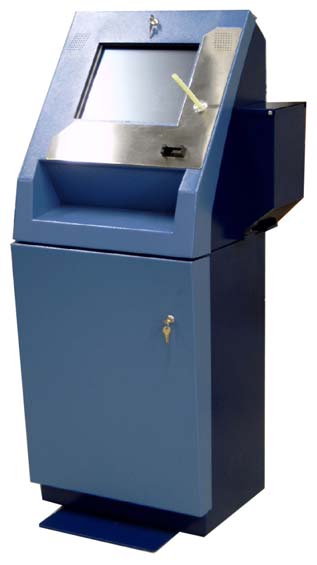 Description
The tritium-in-breath analyzer is housed in a handsome "kiosk" which can be located conveniently for operators leaving areas of potential tritium contamination. It enables them to acquire an immediate measure of their bodily uptake of tritium, and simultaneously informs Health Physics so that speedy preventive and corrective action can be taken in the event of high uptake.
The tritium breathalyser comprises a large (3 liter) ion chamber to maximize sensitivity while minimizing the time taken to fill with breath. It is compensated for gamma and background radiation by the provision of a second and identical chamber. The chamber itself is of wire cage construction, designed for minimum surface area and reduced plate-out.
The tritium breathalyzer uses ionization chamber technology which requires no specialty gases to operate. The computer controlled measurement compensates for background gamma radiation and any other environmental offsets. Operators or maintainers working in potentially contaminated areas swipe their identification card at the breathalyzer kiosk to initiate operation, select a "straw" from a dispenser mounted on the side of the kiosk and push it into an orifice on the front face of the kiosk. The operator then blows into the straw. Once the instrument has analyzed the breath an "All Clear" or "Visit Health Physics" message is displayed. The results are simultaneously emailed to health physics for record keeping. Typical time between processing of personnel is about 30 - 60 seconds.
This technology is a great addition to the current system of urine analysis. While urine analysis may take up to 2 weeks to receive the results, the breathalyzer gives results of high level activities immediately. Health Physics can then respond quickly to the problem ensuring that the worker is properly treated and ensuring that no other workers are exposed by the same incident.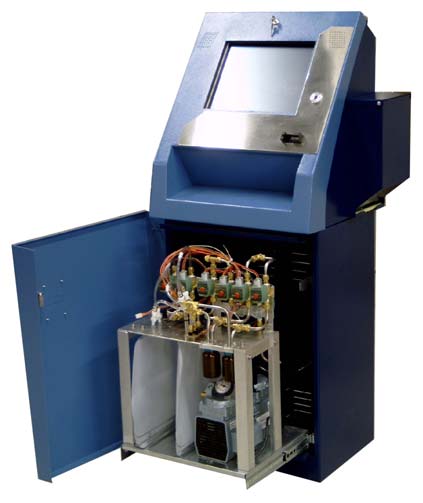 maintenance access
Specifications
| | |
| --- | --- |
| Accuracy | +/- 10% of monitoring range |
| Tritium in Breath Sensitivity | 10 μCi/m³ |
| Urine Equivalent Sensitivity | 227 μCi/L |
| Display | 17in flat panel color display monitor |
| Initiation of Reading | Hybrid Insert Reader for magnetic strip ISO 7810 and 7811 or smart cards ISO 7816. Additional types can be accommodated on request. |
| Output Signal | 4 - 20 mA |
| Ionization Chamber Volume | 1000cc |
| Ambient Temperature | 0°C to 50°C |
| Response Time | Under 60 sec |
| Temperature Offset | Under 1μCi/ °C (can be computer compensated) |
| Dimensions | The cabinet measures 60 in high x 24 in wide x 24 in deep |
| Electrical Safety | CSA Approved |
| QA | ISO 9001:2000 |
| Seismic Qualification | None |
| Communication | Ethernet or Wireless 802.11n |
| Background Correction | Fully Automated |
| Read Out | Result of breath measurement can be read out on the screen |
| Reporting | Results are reported simultaneously to the Health Physics department. |
| Mouthpieces | Standard 3/8"dia plastic drinking straws. (1 box is provided with unit) |
| Colour | Breathalyzers will be in two-tone blue color |
| Note | Modifications to suits individual clients security systems if necessary will be accommodated as an extra. One magnetic strip card is provided with the equipment and programmed with a fictitious name and e-mail address. Smart cards can also be accommodated. |