PDF
Tritium Measurement in Process Tubing - Overview
Application
Tyne Engineering has developed instruments specifically for measuring tritium inside process lines. Applications include:
tritium handling systems

getter bed loops

tritium lights manufacturing

laboratory experimentation

drug labeling systems
Features
Real Time Measurement

Direct In-line installation

Multi Ranging*

Small Footprint

Electro-polished Detector Surface

Max of 150 PSIG

1x10-9 He Leak Tight

Operates above 100°C

1 L/s flow rate

Explosion Proof

Auto Zeroing*

Voltage Analog Output

Current Analog Output*

Digital Range Indication*

Dual set point Alarms*

Visual and Audible local alarm*

Remote Alarm, 30VAC/DC Relay output*

RS232 Output*

Dual Channel for 2nd detector or gamma compensation*

Low sensitivity of 1 µCi/m³

Gamma compensation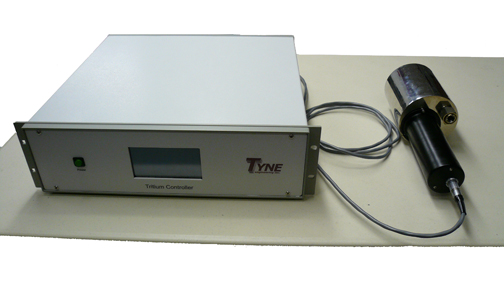 Description
Please note that all features above are available in the Multi-Range Tritium Monitor. Items marked (*) are not available in the Single-Range version.
Tyne Engineering is the only company that has specifically designed a tritium detector to be placed inside of a process loop rather then adapt a room air monitor for the task. This gives the customer a great advantage because the tritium detector is now a proper in-line measurement device that has a small footprint, is 1x10-9 Helium Leak tight, is a pressure vessel to 150 psig, and operates above 100°C.
The tritium detector can be either a 1000cc or 10cc in-line ionization chamber. The 1000cc detector gives the maximum sensitivity and the 10cc detector gives the maximum detection limit. The signal from the detector can be connected to the low cost, Single Range Tritium Signal Processor, or to the touch screen, auto zeroing, multi-ranged Tritium Monitor. Use the above chart to select the system that best fits your needs.
The Multi Range Tritium Monitor is used to measure, alarm and control the amount of tritium directly in line of a process loop in real time. The unique small footprint detector head has the ability to handle up to 150 psig, is leak tight and can operate at elevated temperatures. The touch panel controller which can be remotely installed up to 100m away handles all multi ranging, alarming with relay output, auto-zeroing and gamma compensation functions.
To configure a multi-range tritium monitoring solution for process tubing, you need to purchase Tyne's Multi-Range Tritium Controller and a selection of up to two 1000cc or 10cc ion chambers