PDF
SDS2 Trip Computer CPU Power Supply
Model: 2113
Application
A qualified DC Power Supply used to provide power to the Nuclear Shutdown System #2 SDS2 Trip Computer CPU. Unit is designed by Tyne to be a direct replacement, with the same "Form, Fit and Function" as legacy power supplies.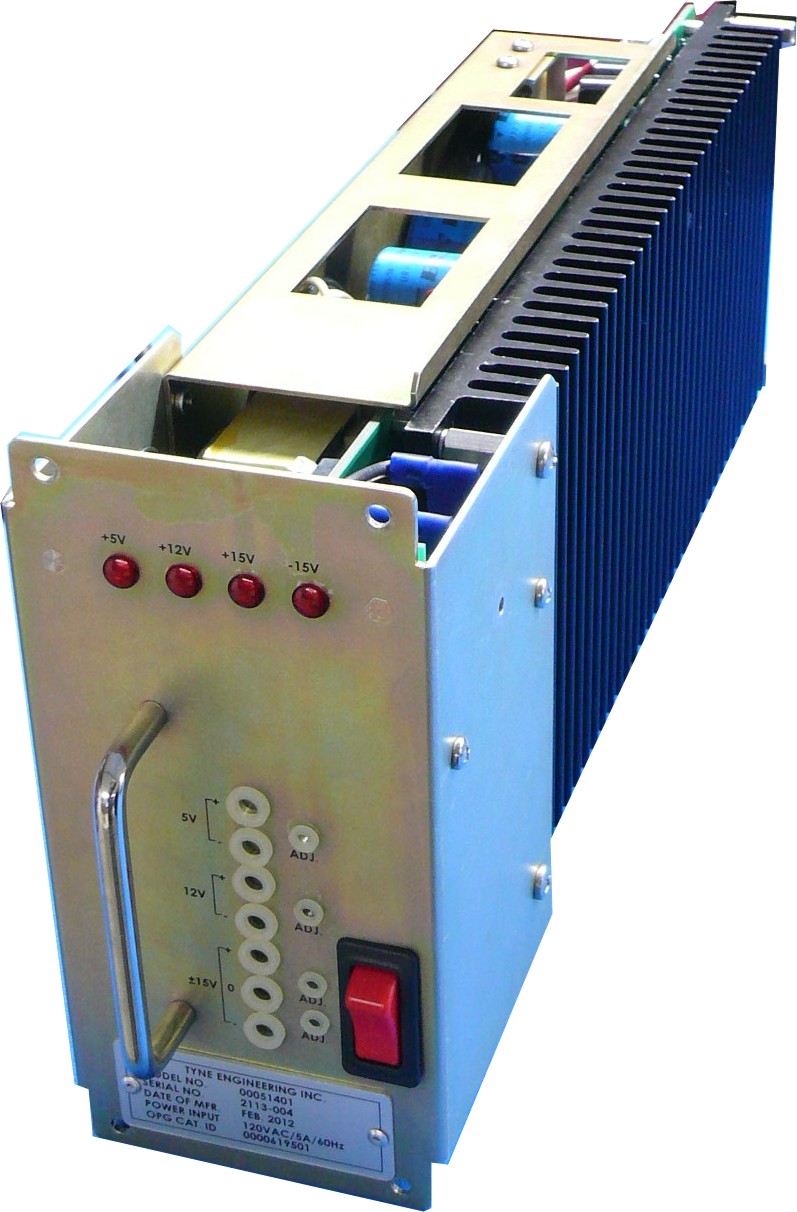 Features
Constructed with high quality Mil Spec components.

High efficiency (80% overall).

Mean Time Between Failure: 40 years.

Seismically qualified

Aged for the equivalent of 30 years.

No fan required for cooling.

Over–current, over–voltage, reverse voltage and over–temp protection.
Description
Tyne's replacement power supply for the SDS2 Trip Computer CPU was designed to satisfy the demanding Nuclear Technical Specification of the original power supply that has been in service for 30 years. The new model has a completely redesigned circuit board using high quality, modern electronic components.
Nuclear power plant owners have expressed recent concerns regarding the quality of replacement power supplies from some vendors because of use of commercial components of sub-standard quality. To address this issue, Tyne designed its power supply from scratch, using custom-wound transformers, and all components positioned for easy inspection by Tyne and its customers.
During re-engineering, Tyne was able to incorporate improvements that came out of customer's operating experience with previous power supplies. Improvements included better accessibility of test points and better cable routing to allow easier maintenance, installation and replacement.
Specifications
Input
115 VAC
Outputs

+5 Vdc output at 20 amps.- Ripple & noise = 25mV(p-p)

+12 Vdc output at 12 amps - Ripple & noise = 25mV(p-p)

+15 Vdc output at 0.50 amps - Ripple & noise = 0.8 mV(p-p)

–15 Vdc output at 0.50 amps -Ripple & noise = 0.8 mV(p-p)

Each side of the centre tapped 31.6-volt AC output transformer (15.8 volts to centre tap of transformer)

Efficiency
80% overall
Stability
Semi-regulated output for bus stability
MTBF
40 years
Qualification Testing

Seismic

Aged for equivalent of 30 years

Thermal performance 10ºC to 50ºC , ambient condition -18°C to +60°C

Relative humidity 95% RH

MIL STD 461E for Electromagnetic Interference Emissions and Susceptibility Conducted Susceptibility, 30 Hz to 150 KHz, Power Lead. Method CS101

Conducted Susceptibility, bulk cable injection, 10 kHz to 200 MHz CS114

Conducted Susceptibility, bulk cable injection, Impulse excitation: CS115

Conducted Susceptibility, damped sinusoidal transients, cables and power leads 10 kHz to 100 MHz. CS 116

Radiated Susceptibility, Magnetic Fields 30 Hz to 100 kHz RS101

Radiated Susceptibility, electric field, 2 MHz to 500 MHz RS103

Conducted Emission Power Leads CE102: 10 KHz to 10 MHz.

Radiated Emissions, RE 102 Electric Field 10 kHz to 18 GHz (test to 500 MHz only).

Parallel operation supported
Cooling
No fan required for cooling
Circuit Protection
Over–current, over–voltage, reverse voltage and over–temp protection
Line regulation
< 0.4% over the variation range
Load Regulation
< 0.4% from no load to full load
Over voltage protection
125% of the output DC voltages
ResponseTime
1μs to 1% after a 25% load change at 5A/μs
Hold-up time
20 msec
Fold back current limit with automatic recovery after overload is removed.
Quality Assurance
NQA-1, CSA-Z299.1, CSA-N286.2