PDF
2-Way Mobile Tritium in Air Monitor
Model: 7003
Application
This cart mounted, mobile tritium in air monitoring system with battery backup is ideal for measuring tritium in remote locations. The system comes with two sample tubes mounted on stands, real time measurement, backup bubbler totalizing, auto zeroing and dual local/remote alarms. The system can be easily connected to a computer for data logging.
Features
Two independent sample points for comparison measurements

Measures down to 1 µCi/m³

Real Time Measurement

Fully mobile in a rugged Stainless steel cart

Battery backup for up to 8 hours of monitoring

Backup Bubbler Totalizer

Independent flow control for each channel

Data logging if connected to a laptop

One touch Auto-zeroing

Two local/remote alarms per channel
Description
The 2-way mobile tritium in air monitor is designed for field measurements of tritium in air. The system is packaged in a rugged stainless steel cart that can be wheeled to the area. The two sampling points are mounted on stands and connect to the system with 20 feet of chemical resistant tygon tubing. The entire system can be operated either from an AC outlet or in battery mode which allows up to 8 hours of run time.
Each sample point is an independent channel with adjustable flow. The sample points each have real time measurement, a backup bubbler for totalized measurement, two local audible and visual alarms and RS232 output for computer data logging. Each channel is auto ranging and can measure from 1 µCi/m³ ( or 0.1 Bq/m³) to 10 Ci/m³ ( or 370 Bq/m³) with a fast 10 second response time.
Environmental effects on the offset of the measurements become more pronounced due to the mobile nature of the system. The one touch auto zeroing of the system helps to correct for these offsets. The dual sampling points also allows for a "clean" background reading that can be compared to the active channel to remove offsets such as gamma radiation.
The real time measurements are made using ionization chamber technology. The air from the sample point is first pumped through the ionization chamber for real time measurement and then through a water bubbler which will strip out all of the tritium oxide. In this manner the total contribution from elemental tritium to tritium oxide may be calculated after an experimental run by subtracting the integration of the real time measurement from the totalizing bubbler.
The mobility and ease of use has made this system a favorite from the Canadian department of defense for measuring the plume created by cutting tritiated gun sights to the Idaho National labs for measuring the void space in shipping crates.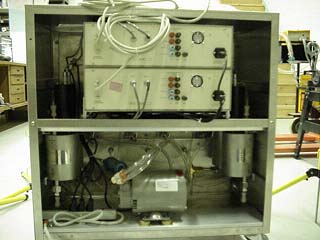 Bubblers and controls
Specifications
| | |
| --- | --- |
| Sensitivity | 1 µCi/m³ or 0.1 MBq/m³ |
| Range | 0 - 10 Ci/m³ or 0 - 370 GBq/m³ |
| Response Time | 10 seconds to 90% |
| Flow Rate | Adjustable up to 10 cc/sec |
| Measurement | Real time with back up totalizing |
| Offset | One-touch Auto-zero |
| Alarm | Dual set points with local audible/visual |
| Data Logging | RS232 - connection to computer |
| Sample Points | 2 independent with flow control |
| Sample Tube | 3' stainless attached to Tygon Tubing |
| Sample Mount | Rugged, adjustable stands |
| Battery Runtime | Up to 8 hours |
| Recharge Time | 12 hrs |
| AC Operation | 120/240 VAC 50/60 Hz |
| Physical Size | 750 mm (H) x 750 mm (W) x 600mm (D) |
| Weight | 100 kg |
| Enclosure | Stainless Steel Cart with rugged Wheels |